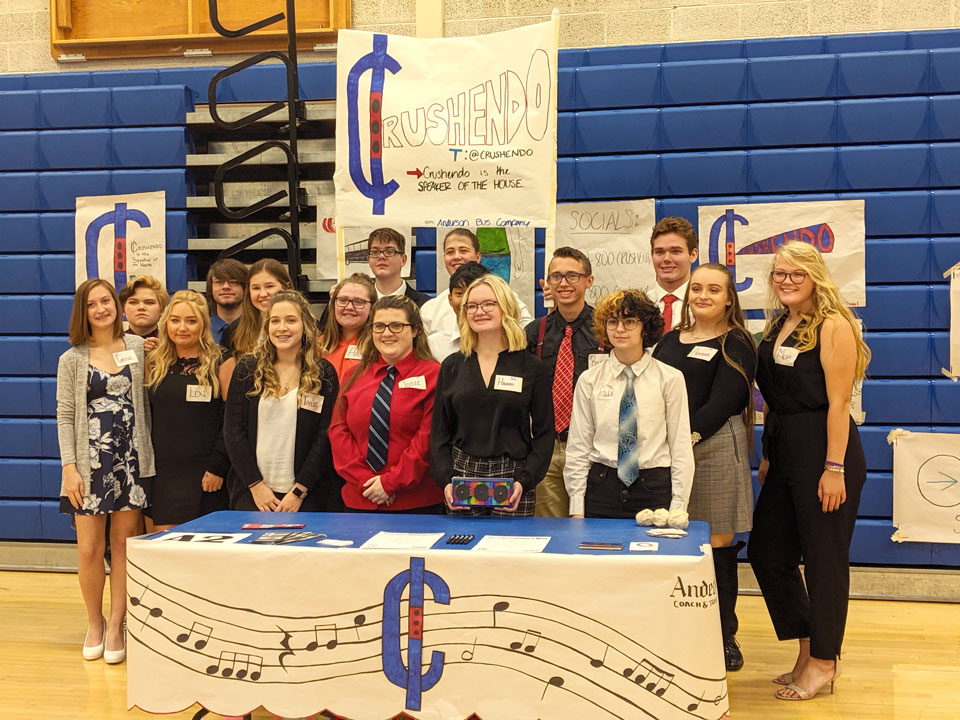 One of my favorite things about working at Anderson Coach & Travel is how involved the company is in the community. The leaders are very generous to so many causes in the area, but there's one that's particularly close to our hearts – education. So when the organizers of Pennsylvania Business Week at Greenville High School inquired if anyone at Anderson would be willing and able to serve as an advisor to a team of students, President Doug Anderson gave me the green light.
Like our founder Dot Anderson, I also earned a teaching degree from Slippery Rock University and always enjoy any chance at interacting with young people. Having only seen one small aspect of the Americans for the Competitive Enterprise System program during my 10 years as a newspaper reporter, I wasn't sure what to expect. I certainly did not think that a group of high schoolers was going to change my outlook on life in just a few days, but it turns out that's what happened.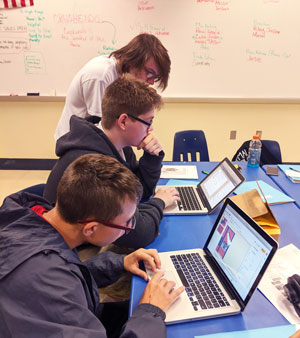 Watching my team of nearly 20 seniors work together on complicated projects kind of restored my faith in humanity.
We often hear people talk of "kids today" and lament their perceived lack of social interaction and their reliance on electronic devices. I can tell you this is NOT what I saw. The students in my group, which was also overseen by teacher Rick Zilla, worked very diligently toward a common goal of developing a fictional product, simulating manufacture of it, marketing, financial decisions and more. They helped each other, got creative, shared ideas, stepped up to do the work and CRUSHed it.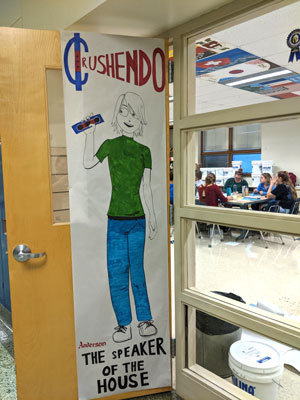 They were assigned to create speakers to sell and came up with a play on the Italian musical term (meaning to increase volume) and named their company CRUSHENDO. Initially a joke, the team's eventual CEO Hannah Leonard suggested that they call it "The Speaker of the House." After a lot of brainstorming, they decided they liked that idea the most. This ultimately led to a red and blue color scheme and a commercial that played on political parties to sell their product.
Over the course of four days they divided up tasks, chose jobs and troubleshot every issue they encountered. There were a couple of lively debates, but mostly they worked really well together. The students seemed to naturally find their classmates' strengths and play to them. When the team needed a billboard drawn, Athena and Alex were their go-to artists. When one student had been fairly quiet, natural leader Adrianne engaged him and got some really great ideas for the project. When the CEO had to miss a day of school, the runner-up for the job, McKenzie, stepped right in and rocked it. When CFO Paul – whom the advisors named the "Shining Star" for the week – had to leave for practice during the one night they could stay late, Zak proved himself a numbers wizard. When it was time to put together the brochure and PowerPoint presentation, tech gurus Riley and Marcel ran with it. When the trade show was in full swing, Hung worked his charm to literally drag people to the company table. Whenever anything need taken anywhere or picked up from the office, Jordan jumped at the chance to hit the hallways and potentially get a drink, because it's important to stay hydrated.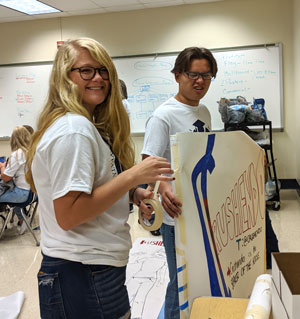 These young people were kind, they were funny and above all they were SMART. One aspect of the competition is a Return on Net Worth computer simulation that requires them to decide how much money to invest in their theoretical manufacturing plant, set prices for products over several market areas, plan advertising budgets over 10 quarters of business, etc. By the end of the event, CRUSHENDO had an 86% profit after making the call to shut down the plant in quarter 9 to sell off surplus inventory. It turned out that wasn't the best decision, but they learned from it and presented their findings to stockholders like champs. They came in first in their industry and second overall in the RoNA.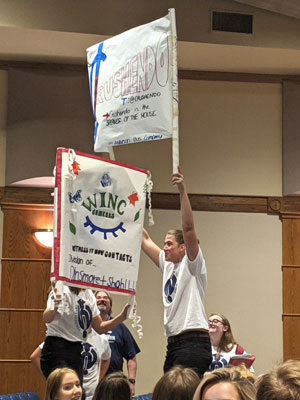 Greenville High had six teams competing with products of speakers and cameras. Things were heated. There was a fair amount of trash talk across the hallways, but the teams really stuck together. And while I don't know how serious the kids were about wanting to win, they put the work in. And it paid off.
CRUSHENDO won first place in the marketing competition and the trade show and was named Top Company overall. Val called our name and the smiles on their faces were worth more to me than the $100 bill in each of their hands.
I'll refrain from posting the adorable video of the kids singing "We Are the Champions" at the end of Friday, but it's true. Abby, Alex, Athena, Cassie, Lexi, Zak, Kenz, Jordan, Taylor, Marcel, Dylan, Josie, Paul, Hung, Hannah, Riley, Justin, Adrianne and Mesa, I hope you are all very proud of yourselves, because I am proud of you.