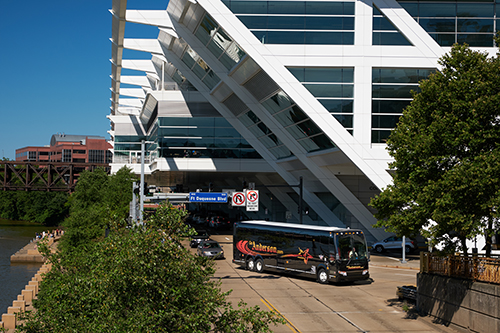 Planning and hosting a convention is a very complex task and we understand that transportation is a large part of it. Transfers are required for delegates to and from their host hotels as well as other events, sightseeing tours and airport transfers. We are here to help you every step of the way.
We have worked for years with meeting planners, CVBs and DMOs to make transportation an easier task and more cost effective. These same groups come back to us year after year because of our experience, knowledge and professionalism.
We know that things change and we are here to help with easy change requests and updates. You will be assigned a professional charter team member to assist you with every detail and with a manager on duty 24/7, you always have someone to talk to.
Our diverse fleet will allow you flexibility to move guests in right-sized vehicles as economically and eco-friendly as possible while our professional drivers greet each guest with a smile and safely move them to their destination.
Let our team show you why we are the best in the convention business, contact one of our charter team members for a
quote
today!
Thank you on behalf of the over 3,600 counselors you transported to and from the David L. Lawrence Convention Center during the ACA Annual Conference & Exposition. I was amazed at the number of compliments we received about your team of drivers! I heard everything from how courteous and knowledgeable they were to how patient they were. I could go on and on about your service and your drivers!
- Theresa Holmes, ACA