We will seek, to the extent feasible, to accommodate the needs of persons with disabilities so they are able to enjoy our tours. AC-Travel Services, Inc. intends to comply with the Americans with Disabilities Act (ADA). Although we will notify and request accessible facilities, AC-Travel Services, Inc. is not a guarantor that all facilities and attractions will provide access that complies with ADA requirements. Please note, Canada and international destinations do not adhere to ADA requirements. Please provide us with advance notification of special needs as all sites and attractions may not be accessible.
Reduced prices are generally available for children age 11 and under rooming with two adults at the double room rate. Some tours do have age restrictions.

Coach Seating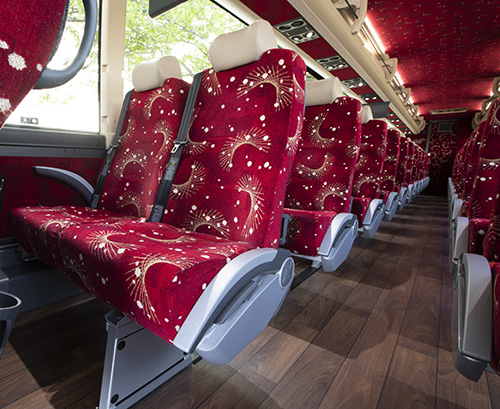 Customers can choose their seat at time of booking based on available inventory. We are no longer rotating seats on our tours. Special seating requests will not be honored. We recommend early booking to help ensure you get the seats you want. When booking online, you will be shown a seating chart during the process to select your seat (follow the instructions on the left). If you book directly with our office, your sales associate will ask your seating preference.
Deposits and Payments
One-day and express tours – Full payment is due at time of booking if making an online reservation. If booking by phone, tours with more than 30 days before departure allow for 10 days to make full payment.
Multi-day tours – Deposit is due within 10 days of booking and the balance is due 30 days prior to departure. If making a reservation online, at least the deposit must be paid at the time of booking.
Full payment is required on all tours if the tour departs within 30 days. When booking a tour through our online reservation service, it is necessary to make payment immediately. Some tours offer the option of a deposit. To avoid the possibility of your seat being cancelled, when booking, use your MasterCard, Visa, American Express or Discover card.
Gratuities
Tipping hotel personnel or dining room staff is included when meals are part of your tour. If you wish to show your appreciation to your coach operator or tour director, gratuity may be rewarded on a voluntary and individual basis. This practice is customary, but not obligatory.
Immigration Regulations
When departing the U.S., proof of citizenship is mandatory and must be carried with you. This currently includes a current U.S. Passport. Adults over age 15 must have a Passport or Passport Card. A Passport Card is for land and limited cruise transfers.
Anderson personnel can deny access to travel to passengers at the departure location when the required I.D. is not with the passenger. No refund will be available to the passenger if unable to travel due to improper immigration requirements. Naturalized U.S. citizens must carry a naturalization certificate and some other evidence of citizenship. Persons other than U.S. citizens or legal, permanent residents of the United States, require a Passport or a VISA. In addition to proof of citizenship, those admissible to Canada must not have a criminal record. This includes convictions for driving while intoxicated. Tours that enter a foreign country are marked with a passport throughout the Tour Catalog. Anderson is not responsible for decisions made by customs officials.
Visit
www.travel.state.gov
for the latest immigration/passport requirements for the country you are visiting. Regulations are subject to change by the government. Anderson Coach & Travel highly recommends passports for all cruises & fly tours. Cruises and International flight must have a current passport. We highly recommend a passport for all border/land crossings.
BEGINNING JUNE 1, 2009
, U.S. citizens traveling between the U.S. and Canada, Mexico, the Caribbean, and Bermuda by land or sea could be required to present a valid U.S. passport.
U.S. citizens and citizens of Canada, Mexico and Bermuda traveling by air between the U.S. and Canada, Mexico, Central and South America, the Caribbean, and Bermuda are required to present a valid passport to enter (or re-enter) the U.S.
All citizens of the United States, Canada, Mexico, and Bermuda are now required to present a valid passport when entering the United States at any airport.
The regulations stated above are constantly changing. Anderson Coach & Travel endeavors to keep our clients current as legislation and rules change. This is a challenge in our ever changing world. Anderson Coach & Travel strongly encourages that all U.S. Citizens traveling by motorcoach (land) or cruise ship (sea) out of the U.S. obtain a Passport. All U.S. Citizens currently traveling by plane out of the U.S. should obtain a Passport.

Please note, Anderson Coach & Travel cannot be responsible for decisions by customs officials. In order to protect our customers, Anderson Coach & Travel can deny access to travel to passengers at departure locations, when the required identification is not with the passenger. No refund will be available to any passenger unable to board the coach due to improper immigration documents. Therefore, we highly recommend a passport for all border crossings.
Lodging
Our travel planners work hard to find the best accommodations . They are chosen on the basis of cleanliness, as well as the warm hospitality of management and staff. In addition, we constantly monitor the quality of the hotels. In most cases, double-bedded accommodations are available, but not guaranteed. Non-smoking rooms are requested, but are not guaranteed.
Luggage
Tour cost includes handling of one standard size piece of luggage per person. Bag must not weigh more than 50 pounds. If it exceeds the weight limit, no handling will be provided. One small overnight bag per person may be placed in the overhead luggage rack inside the coach. You are responsible for handling this article at all times. Additional luggage will be handled at an additional fee. Every reasonable effort is made to handle luggage as carefully as possible. However, the Anderson organization does not assume liability for loss or damage due to fire, water, theft, pilferage, breakage, etc. of any checked, unchecked or carry-on luggage, contents or other personal property of any type.
Meals
Meals are included when noted on the tour. Continental breakfasts are considered meals. B- Breakfast, L- Lunch, BL- Boxed Lunch, D-Dinner, Movies - The movie choice will be made at the discretion of the Anderson Tour Director. DVD capabilities are on every vehicle but due to vehicle movement this amenity is not guaranteed operational. Every reasonable effort will be made to keep equipment operating.
Partial Tours
Arrangements can be made for you to take just a portion of our tours (i.e. one way to Florida). We will charge you the pro-rated cost involved. Passengers taking the entire tour will receive priority seating.
Persons Traveling Alone
We welcome individual travelers. If you are interested in a roommate, please tell our associate and we will do our best to assist you.
Prices
Our prices are based on current quotations. Anderson professionals watch for the best and most economical opportunities when creating a tour. However, we reserve the right to increase our prices at any time due to fuel, vendor, or other increases.

We have made every effort to ensure the accuracy of the products and services we offer in our tour catalog and online at GoAnderson.com. We are not liable for any informational typographical errors on the website or in our tour catalog. If you find an error please report it to us for immediate correction. In the event something is listed at an incorrect price due to typographical, photographic, or technical error, we shall have the right to refuse or cancel any orders placed for products listed at the incorrect price. AC-Travel Services, Inc. shall have the right to refuse or cancel any such orders whether or not the order has been confirmed and your credit card charged. If your credit card has already been charged for the purchase and your order is cancelled due to an error, we shall immediately issue a credit to our credit card account in the amount of the incorrect price.
Responsibility Statement
These tours are operated by AC-Travel Services, Inc., of Greenville, PA, and are certified and bonded by the Interstate Commerce Commission of the federal government. AC-Travel Services, Inc., acts only as an agent for tour members in arranging room accommodations, transportation, sight-seeing, admissions and restaurants. Anderson reserves the right in its sole discretion to make changes in itinerary and is not responsible to any person for expense, loss of time or money, or other circumstances resulting from an itinerary change or change of tour arrangements for tour members.

Anderson reserves the right to decline, to accept or to retain any person, as a member of any tour at any time. Anderson is not responsible for any loss or damage of personal property, or for injuries, expenses or damages incurred or claimed by any tour member(s).

Anderson acts only as agents for the passenger and therefore accepts no responsibility, in whole or part, for delays, loss, damage, injury to property or person due to mechanical defects or other cause, or for additional expenses incurred through sickness, weather, strikes, wars, quarantine, or other causes. We reserve the right to change the price on tours, if conditions deem necessary, without notice. We also reserve the right to cancel any tour prior to departure and in such case all payments will be refunded without obligation on our part.
Smoking
Smoking of any kind is not permitted anywhere on our coaches or on any Anderson Vehicle. Ample stops for meals and sightseeing should accommodate smokers. For our overnight tours with hotel, smoking rooms can be requested, but are not guaranteed.
Special Pick-Ups
Occasionally, special pick-ups can be made if routing and schedule permits- especially for groups of 10 or more. This service is restricted and may involve an additional fee. Do not hesitate to ask, we try to be accommodating.
Tour Protection Plan
Anderson Coach & Travel's Protection Plan is inexpensive and easy to purchase. If for any reason you need to cancel, and you contact the Anderson office prior to departure, you are guaranteed a full refund of your tour payment minus the tour protection. This plan also allows a refund on any unused portion of a tour due to an illness or emergency while on tour. Anderson's Tour Protection Plan covers the cost of your tour on Anderson motorcoach tour departures only. You must purchase the tour protection at the time you make your tour reservations. Ask an Anderson travel planner for more details. Incorrect immigration documentation at departure point does not allow for a refund.