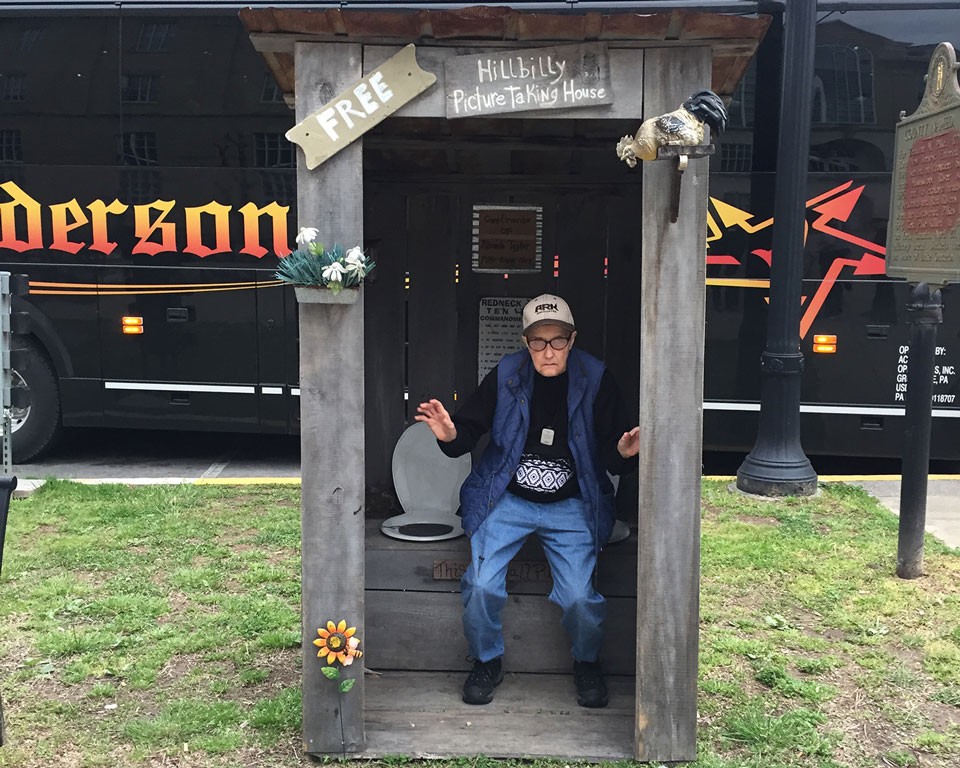 We had so much fun, we're going to do it again! Watch your Anderson tour catalog for next year's dates!
By Shirley
When I was assigned to tour direct Anderson's first Appalachian Adventure tour, I wasn't sure what to expect. In my over 30 years of travel, I have been to the big cities, sights such as Mt. Rushmore and Crater Lake. The list goes on. But Hillbilly Days in Pikeville, KY, was a new one for me.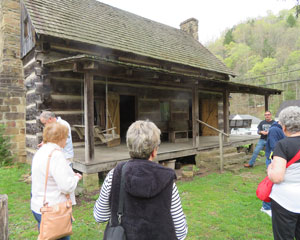 From the minute we met Tony Tackett, Executive Director of the
Tourism Board in Pike County
, Kentucky, I knew we were in for quite an adventure. Tony hopped on the coach and his assistant Johnda followed us in her car in case of an emergency.
Our first stop took us to the house of coal which was built in 1933. I've toured coal mines, but have never been in a house entirely made of coal.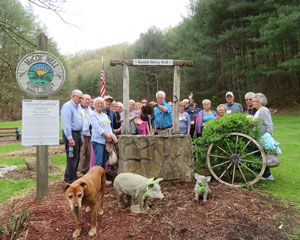 We traveled to Pike County and all its winding roads and, lo and behold, we had two police car escorts plus the car. Talk about first-class service. We followed the historic hog trail and stopped at the historic McCoy well site with McCoy descendant Bob Scott telling of the many artifacts found here. We all got a drink of water and I'm not sure if it put us in the loving or fighting mood!
Our group headed to the lovely Hampton Inn right in the center of the festivities of Hillbilly Days. Wow, what an impressive hotel. Our bags were delivered in a matter of minutes and Paul our coach operator had a special reserved spot beside the hotel. The rooms were squeaky clean (something I always like to check). As luck would have it, we were right beside the chamber and Tony and his staff were there to answer questions.

We had a free evening to enjoy the festival and sample the many foods set up by vendors. There was even a craft festival set up in the lower level of the parking garage. After a very early morning, we were all ready for a good night's sleep in our lovely rooms.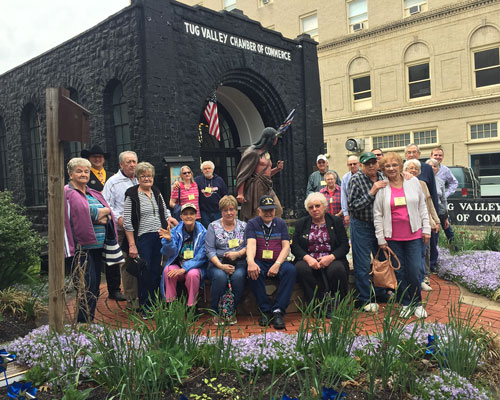 Day 2 found us heading to breakfast. Once again, we were treated like royalty!! All the girls had that classic Southern charm and gave us superior service. We learned a great deal about the community from the friendly staff too.
Tony was waiting for us to begin our new adventures. We had our police escorts to keep us safe on the narrow roads and our gal in the car right behind us. We visited Breaks Interstate Park which is considered the Grand Canyon of the South. Spring was in full bloom and we enjoyed Mother Nature at her best after a long winter.
Lunch was a delicious buffet at the park in the Rhododendron Restaurant. Once again we witnessed Southern hospitality at its best. The food was yummy and the servers couldn't do enough for each guest.
We headed back to the hotel for the Hillbilly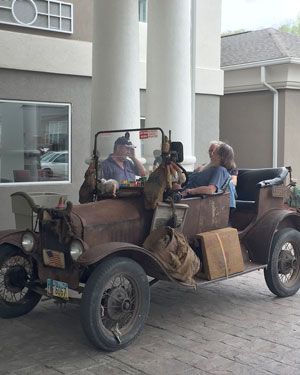 Parade. You could watch from the hotel windows or stand on the street. We had a perfect spot! This was a very unique parade with fire trucks, many Shriner vehicles, local politicians, and the best part—many old, antique cars and trucks typical of the moonshine era. Each vehicle was unique with all the hand painted signs, hound dogs, moonshine stills, and all the riders dressed in their finest Hillybilly garb. We all just loved it and I can say I never experienced such a fun parade!!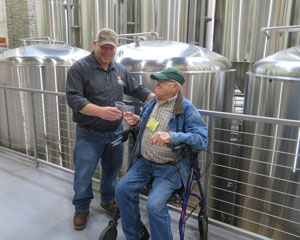 After the parade, we met Tony in lobby and took a short walk to the Dueling Barrels Brewery and Distillery. In a spotless atmosphere, we learned about the brewing process. If we wanted, we were able to sample the many fine blends and make purchases.
We had a little while to rest and then went next door to the Hilton Garden Inn and up to an elegant dining area. Once again, we received more Southern hospitality as we feasted on an awesome pasta buffet—Yummy!!! We were serenaded by a local guitar player.
After dinner, we had another surprise. We were joined by Billy and Sharon Hatfield. Billy is a direct descendant of the Hatfield family and had many wonderful and entertaining stories to share.

We all received a picture of his family and some of the relatives. Billy came all the way from Oklahoma where he has served as a minister for over 40 years.
Our beds were very welcoming after an awesome day filled with good food, music, and great memories.

Day 3 saw us heading downstairs for another wonderful breakfast hosted by our great serving staff. I got an added bonus and got to sit with Sharon and Billy before they headed to church. What a charming couple!!

The weather was perfect and the birds were singing as we headed to Big Sandy Heritage Museum where we learned about the history of the area and the famous Hatfield-McCoy feud. The displays at the museum were amazing.

We hopped back on the coach and started to Butcher Holler with Tony and his dynamic crew both leading and following the coach. It made me feel like some famous celebrity with all this attention.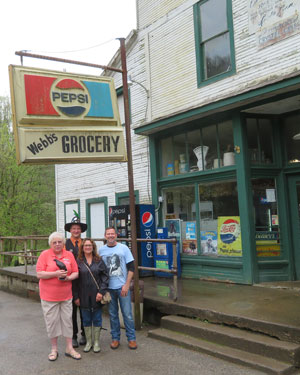 We arrived at the General Store which was an old coal mining camp store. Nothing much had a changed with handwriting on the bathroom walls, old creaky doors, peeling paint, and the old-fashioned showcases. You could even get an RC cola and a moon pie. Talk about nostalgia!
We then headed to Loretta Lynn's childhood home and had to take a van up the drive since it was so narrow. You could almost envision Loretta skipping down the path to the store or the one room schoolhouse on the path, too.

We arrived at Loretta's humble home and were greeted by her niece Connie as Loretta's music played throughout the home. Connie pointed out memorabilia from years gone by. Sunday was Loretta's birthday and Tony and Johnda brought along birthday cake that we enjoyed after we sang happy birthday. My favorite part of the day was sitting on the porch swinging and visiting with Connie. Life couldn't get much better than these few stolen minutes of beauty and tranquility.
After we left here, we headed for lunch in West Virginia where we said our good byes to Tony and Johnda.

I can honestly say in all my years of travel have never met a young man and his staff who left no stone unturned. They were with us from start to finish and only took time to sleep. Tony took time to tell us that profits from Hillbilly Days go to the Shriners Hospitals and they have already raised several million dollars. Pike County is so fortunate to have Tony leading this fine team of good will ambassadors who help to generate revenue in an area that needed a boost to its economy. I certainly hope to go back soon to visit my new friends.
To view all the photographs from this tour and more, click
here
.