Our journey to The Real Frontier included so many amazing stops! I could write a whole book about our 30 day motorcoach tour to Alaska with our driver Paul (a 3rd generation Anderson driver!), but for this blog post, we'll just feature a few of the highlights. If you want to see more photos, you can visit our page at
. For a true picture of the trip, you'll need to book a seat on our next tour there!
On Day 2, we got an early sweet treat! who needs breakfast when your first stop is the Jelly Belly Visitor Center? We boarded a train for a 20 minute tour through candy land. Surrounded by jelly beans—both real ones and huge plastic ones hanging from the ceiling—we learned about the process of making jelly beans. Then we sampled some in the gift shop. Yummy.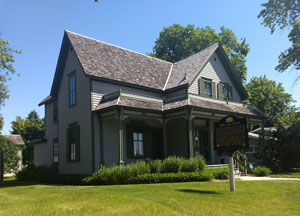 We found ourselves in Minnesota on day 3, where we enjoyed time in Sauk Centre, also known as "Main Street" in the satirical novel by Nobel-winning author Sinclair Lewis. We also toured his boyhood home and went for a walk down Main Street.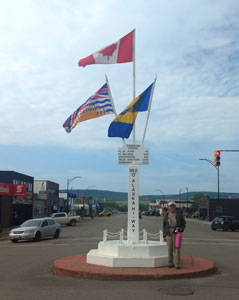 We arrived at the zero marker of the Alaska Highway in Dawson Creek, British Columbia, on Day 7 of our adventure. Everyone had to get their picture taken at the large sign in the middle of the towns main intersection. Thank goodness it was Sunday morning with very few cars.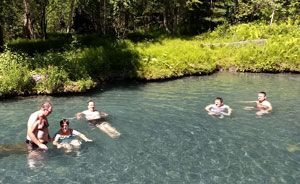 Amazing scenery meant some extra photo stops on Day 8. We got to the Laird River Hot Springs. Everyone walked the boardwalk through the swampy woods to the spring. Several guests changed and went swimming including our driver, Paul. They said it helped their hurting backs and knees, at least for a while. On the way up from Fort Nelson we started seeing lots of wildlife. Today we saw 14 bear, 10 longhorn sheep, 8 buffalo, 4 moose, and many others.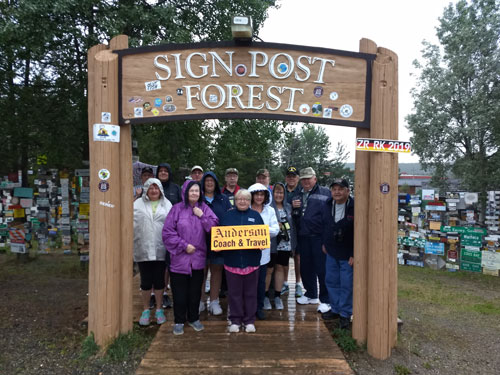 Right after we left the hotel in Watson Lake, YT, on Day 8, we stopped at the Signpost Forest. We hung our own sign. The picture was taken in a hard rain and only about half the people got out to find our previous years signs. There are over 100,000 signs in the forest.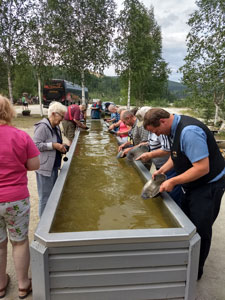 Just before driving into Dawson City on Day 10, we tried our hand at panning for gold in Bonanza Creek just a mile from where the first gold was discovered back in 1897 to start the rush. Our hosts made sure everyone got at least a little gold in their pans and gave it to them in a little vial or in a locket.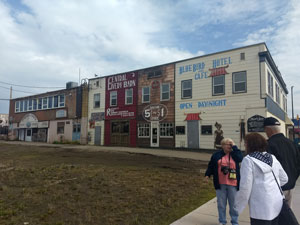 Dawson City is an entire town that is considered historical. They have left their streets of dirt and their sidewalks of wood planks. Most of the buildings are over 100 years old. In fact one bar is so uneven the bartender doesn't have to slide a beer, it moves by itself.
The morning of Day 11, we crossed the Yukon River on a tiny ferry that could only carry one bus or semi at a time. Then we took the Top of the World highway into Alaska. Awesome!
In Fairbanks, where we arrived on Day 12, we went on a cruise down the Chena River. It was one of the highlights of the whole trip. First an aquatic aircraft took off and landed right next to the boat. Then we stopped by Susan Butcher's kennels for a sled dog presentation. And finally, we went to a Chena Indian village. The narration at the site was exceptional but especially the older gentleman on the steamer who kept us entertained with witty and informative dialogue that only a native
Alaskan would know.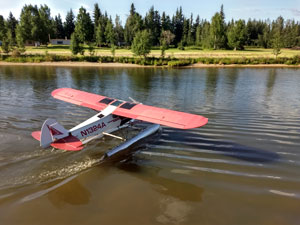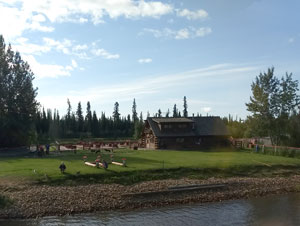 On Day 14, we boarded a park bus with the driver also the tour guide who drove us into Denali toward the mountain. We could see it from 30 miles out but by the time we got close, it was covered by a thick cloud of smoke from a forest fire on the other side of it. But we saw many other beautiful vistas and much wildlife. In fact, we had a grizzly bear and her cub walk right in front of the bus. Wow!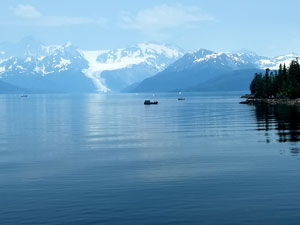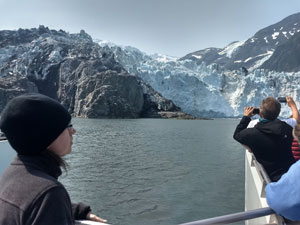 In Whittier on Day 15, we boarded a high speed catamaran to go on the "26 Glacier Cruise." We got withing 100 yards of a glacier but we saw much more that glaciers. We saw ice bergs and lots of floating ice chips along with many species of birds, seals, sea otters, and even a humpback whale.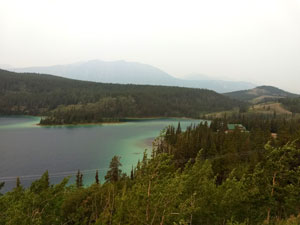 We traveled south out of Whitehorse, YT, the morning of Day 18 and had a quick picture stop at Emerald Lake, one of the most beautiful lakes in the northwest and that's saying something. After we arrived in Skagway, AK, most of us went to the infamous and bawdy Red Onion Saloon for lunch. The atmosphere had not changed much from the gold rush days. And right next door is the Arctic Brotherhood Hall covered in thick sticks and branches in geometric patterns. They must have been interesting neighbors in their heyday.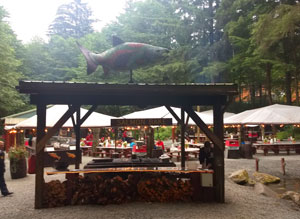 Today was a fun day on the water and the 19th day of our tour. We took the Alaskan Ferry from Skagway to Juneau on the Tazlina, a new modern boat with very comfortable chairs. This is considered part of the highway system of Alaska. It is also the only water highway in the United States with a Historic Scenic Road designation. It was beautiful. We saw many eagles. On our arrival in Juneau, we went to the Gold Creek Salmon Bake in a beautiful forest. It also had a large waterfall and an old gold mine to see along with good food.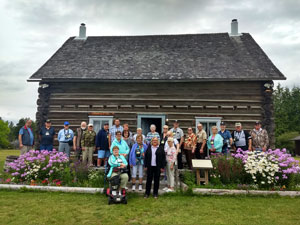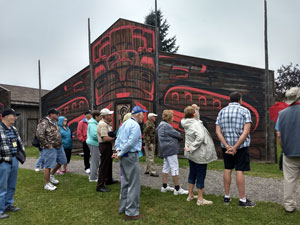 As we traveled into the heart of British Columbia, Canada, on Day 23, we saw the beautiful Coast Mountains covered with cedar trees and full of wildlife. We toured two villages today: The Heritage Park Museum which showed how the first pioneers lived and the Kan Historical Village and Museum which showed how the First Nation natives lived before the Europeans. Touring the two sites in the same day was enlightening.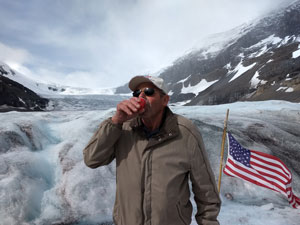 Our 25th day, included was the Columbia Icefield and Discovery Center. We boarded a Snow Bus with huge tires that took us onto the Athabascan Glacier. What fun we had holding on to each other to keep from slipping. Then many drank little glasses of water from the glacier melt. Very, very pure.
On Day 29, the coach serenaded Paul and I with a "3 Cheers" song. What a group! Our last supper together. We took a boat cruise out onto Lake Michigan and had dinner and entertainment. It was lovely.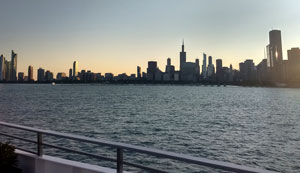 After 30 days, everyone was ready to be home with fond memories of this amazing journey. But the best thing they'll remember is the friends they made. They will be missed until we see them again.