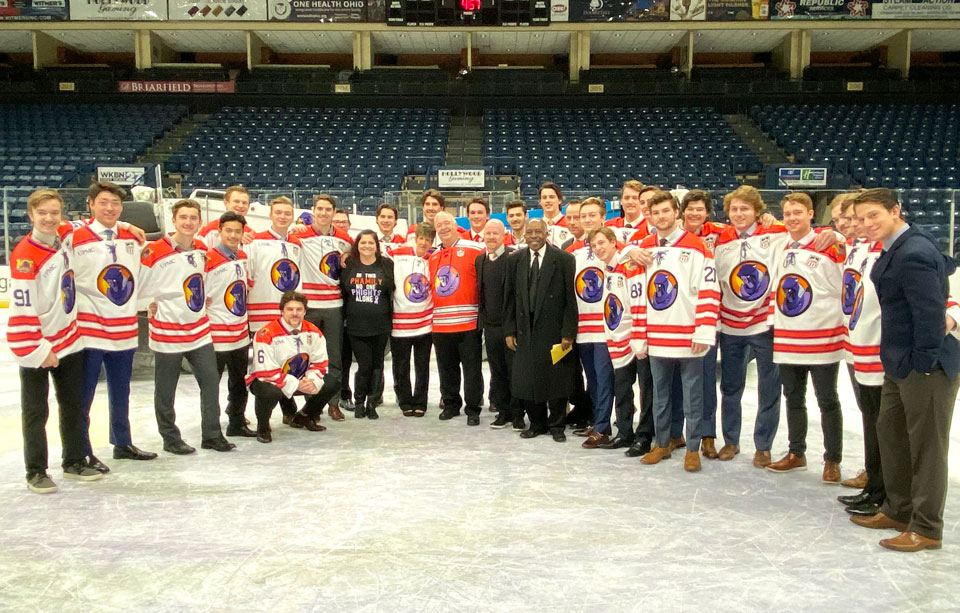 ­­­Congratulations to our motorcoach driver Don Eaton and his new wife Mary Ann! Their recent wedding was surely unique.
The couple were wed November 23 on the ice at the Covelli Center prior to the Youngstown Phantoms hockey match.
Here at Anderson Coach & Travel, we are lucky to have a great relationship with the Phantoms, who are part of the USHL. For several years, we have been transporting these fine young men to their away games. We take them to beat the Muskegon Lumberjacks, the Green Bay Gamblers or the Chicago Steel.
Our driver Don Eaton has been the driver for the team the last three seasons and has become one of their biggest Phans. Don's watched them grow up, he's followed them when they get to their colleges, and he goes to as many home games as he can get to. He's a very busy guy, driving trips, and being a super cool grandpa to his many grandkids.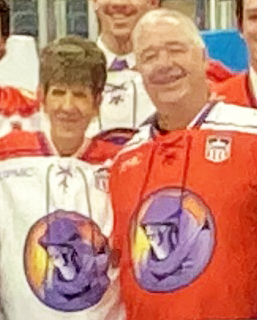 At the November 23 game, Don was most definitely the guest of honor. Don was married to his sweetheart, Mary Ann, at center ice before the Phantoms took on the Sioux City Stampede. The Phantoms went all out for the event. I mean, after all, Don is Phamily. The team that have come to know and love him, were all there for the wedding. The assistant coach, Jeff Potter, acted as best man and account executive Arielle McNutt was there as the maid of honor. The Phantoms awarded the happy couple his and hers jerseys emblazoned with bride and groom on the backs.
After the ceremony, we were ushered to the Party Porch where there were plenty of refreshments, great seats and the players were just inches away from us. The players gave pucks to the grandkids, we really got to see what happens prior to these games. It was the happiest of days for Don, Mary Ann, their families and the Anderson Phamily. We were honored to be part of the day.
The USHL is the country's top junior hockey league. They are classified as Tier I. The Phantoms have produced over 100 players that have committed to NCAA Division I schools and 15 former Phantom players have been drafted into the NHL. Hockey fans might recognize these names: Scott Mayfield, Jiri Sekac, Nathan Walker, Andrej Sustr and Kyle Connor. They all came up through the ranks at the Covelli Center in Youngstown, OH. The Phantoms are very motivated to give back to the local community as well. You can find them reading to students in school, assisting in local soup kitchens or, of course, teaching youth players.
Best wishes to Don and Mary Ann! May the pucks forever go in the nets for you both!