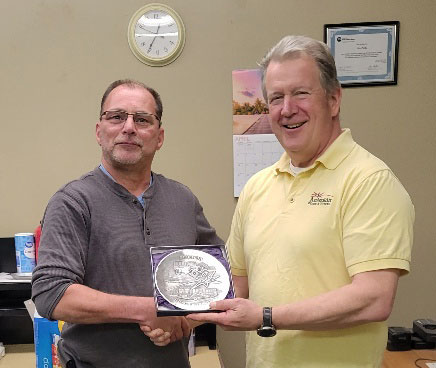 When young William Collins Jr. applied for a mechanic job 40 years ago at Anderson Bus & Tour, he was not familiar with the large vehicles that would become his career.
"But I knew the engines," said Collins, reflecting on the anniversary milestone at the company now known as Anderson Coach & Travel.
The Andersons saw something special, hiring Collins on the spot to start the next business day.
Four decades later, that man is a father and grandfather who worked his way up the ranks to become Fleet Manager and his current position as School Bus Manager.
Collins, 61, of Hadley, previously oversaw the maintenance of more than 40 motorcoaches at a time and now heads up the school bus division. That's roughly 180 vehicles in four school districts covering more than 500 square miles.
That's a lot of ground to cover and new challenges come up every day. "I'm the type of guy who likes a challenge," he said.
One thing that's always impressed Collins about the company is how safety-minded they are, not just for passengers but also for the shop personnel and staff.
His best memory of his time at Anderson is being named Fleet manager about 10 years ago. Collins said he'd thought about applying for it if the job every opened up and had ideas for changes to make.
"Every day is different," Collins said. "It doesn't get boring."
He noted the major advances in technology aboard the motorcoaches and buses has been interesting to see. He recently traveled to Quebec and had a chance to see a bus built from the frame to the paint shop. "How that's changed is amazing," Collins said.
At this point, much of his workday is planning and scheduling for the fleet and staff, but Collins still finds time to help out on the floor. Sharing his expertise with the team is a big part of the job. One of the biggest life lessons he's learned is how to deal with people's personalities.
"Everyone has a different outlook," said Collins.
Collins said the best thing about working for Anderson Coach & Travel is the "family environment."
"In my time, I've never run into a situation where they wouldn't help you or stand behind you in anything," he said.
Off the clock, Collins spends as much of his time as he can with his wife, Theresa, and their growing family. He likes hunting, fishing, and antiquing. Collins said his family has been very supportive of his career over the years, noting that Anderson also allowed the flexibility that allowed him to attend his children's events as they were growing up.
"A lot of people ask me, 'Why have you stayed so long at one job?' I've always told them, 'Well, I raised kids, put them through Thiel College and paid off my home. I can't ask for more than that."