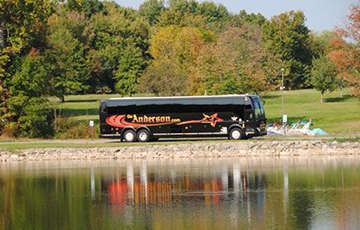 When you choose a charter bus company, you put your trust in a team to deliver on safety, comfort, and more – and Anderson Coach & Travel does just that.

Whether you're looking for a Lakewood charter bus rental to get your fan club to the next Cleveland football game, or a stylish 13-passenger van limo to for your bachelorette party, Anderson has the vehicle to fit your group.

As a national leader in the transportation industry, Anderson goes above and beyond to make sure you have a superior travel experience whether your journey takes you to Lakewood Park or across the country. In addition to top-quality vehicles and excellent amenities, you'll experience Anderson's outstanding customer service from the moment you inquire to the end of your trip.

Anderson has a legacy of safety and carries the highest possible ratings from the U.S. Department of Transportation and the U.S. Military. So, if you're looking for a safe and dependable coach bus rental for your next big adventure, look no further than Anderson.