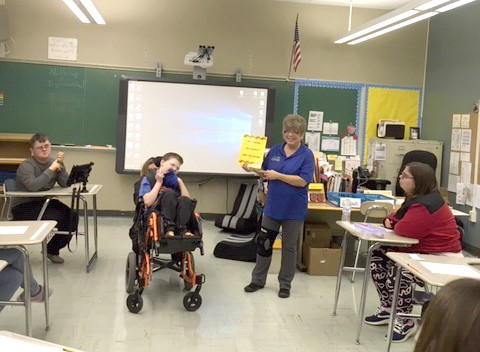 The Anderson team of school bus drivers is top notch all around, but we want to give kudos to a driver who goes above and beyond to spread the word about her job.
Reynolds school bus driver Val Miller recently spoke about her career to the life skills class at Reynolds Junior-Senior High School.
"Val is a great ambassador for Anderson Coach & Travel as she is one of our best drivers and also a new instructor," said Reynolds School Bus Division Manager Luke Gealy. "Val is very well known by all of the students as she is usually the driver that volunteers to drive their trips out into the community throughout the school year."
"I love what I do," Val said and she is happy to share her experiences with young people.
Teacher Mrs. Kent asked Val to talk to her class and she excitedly agreed. The students were studying different occupations and Val told them about the special schooling, testing and licenses needed to be a school bus driver. She explained what her day involves and how special field trips are different from normal school routes. She said the students asked questions about what to do in an accident, the rules on the bus and more, all while taking notes for an assignment. Val also showed them a video about bus behavior and not being a bully, and while she said they seemed to enjoy it at the end she couldn't convince any of them to become a driver themselves one day.
But if you're interested or know someone who is, Anderson is hiring! Training is paid and you can find out more information
here
.