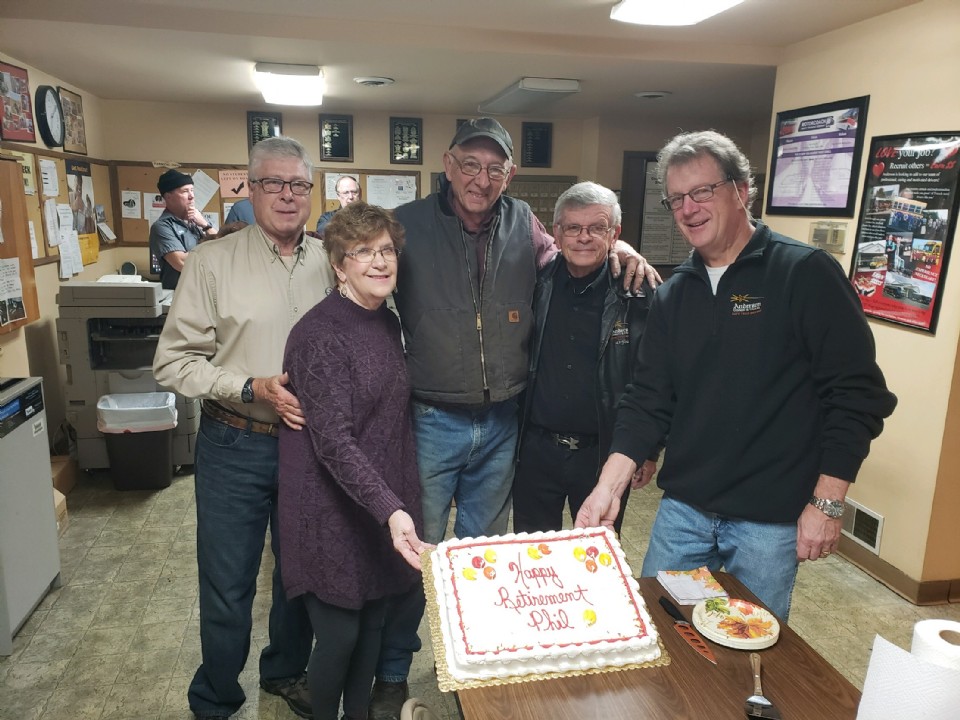 Phil Polkabla basically grew up at Anderson Coach & Travel.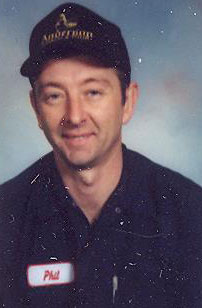 After more than 40 years, the man of many talents has hung up his ballcap and retired from the Anderson organization. Polkabla has worked behind the wheel of a bus, under the hood of them and in every corner of the garage, office and shop at the company's Route 18 complex.
A life-long Greenville resident, Phil started working at Anderson in spring 1975 after graduating from Greenville High School. His mother was a school bus driver and his dad worked swing shift, so Phil was often out on routes with his mom while growing up.
One day Lyle Anderson – the oldest son of founders Dot and O.D. who happened to be Phil's 5th grade teacher – inquired with Mrs. Polkabla if she thought her son would be interested in driving, too.
"I came out here and we took a school bus and drove up around Atlantic a couple times," Phil said, describing a process that's worlds away from the legal licensure requirements of today. "We came back, there was a coach sitting here and Lyle said 'do you think you can drive it?' I said 'I don't know.' So we took the coach and went up and drove around and came back and he says 'go in and tell Mom you need your paperwork.' "
Phil was only 18 years old.
Now, a few decades later, he has an uncanny recall of details from over the years. And he'll tell you a tale or two if you get him going.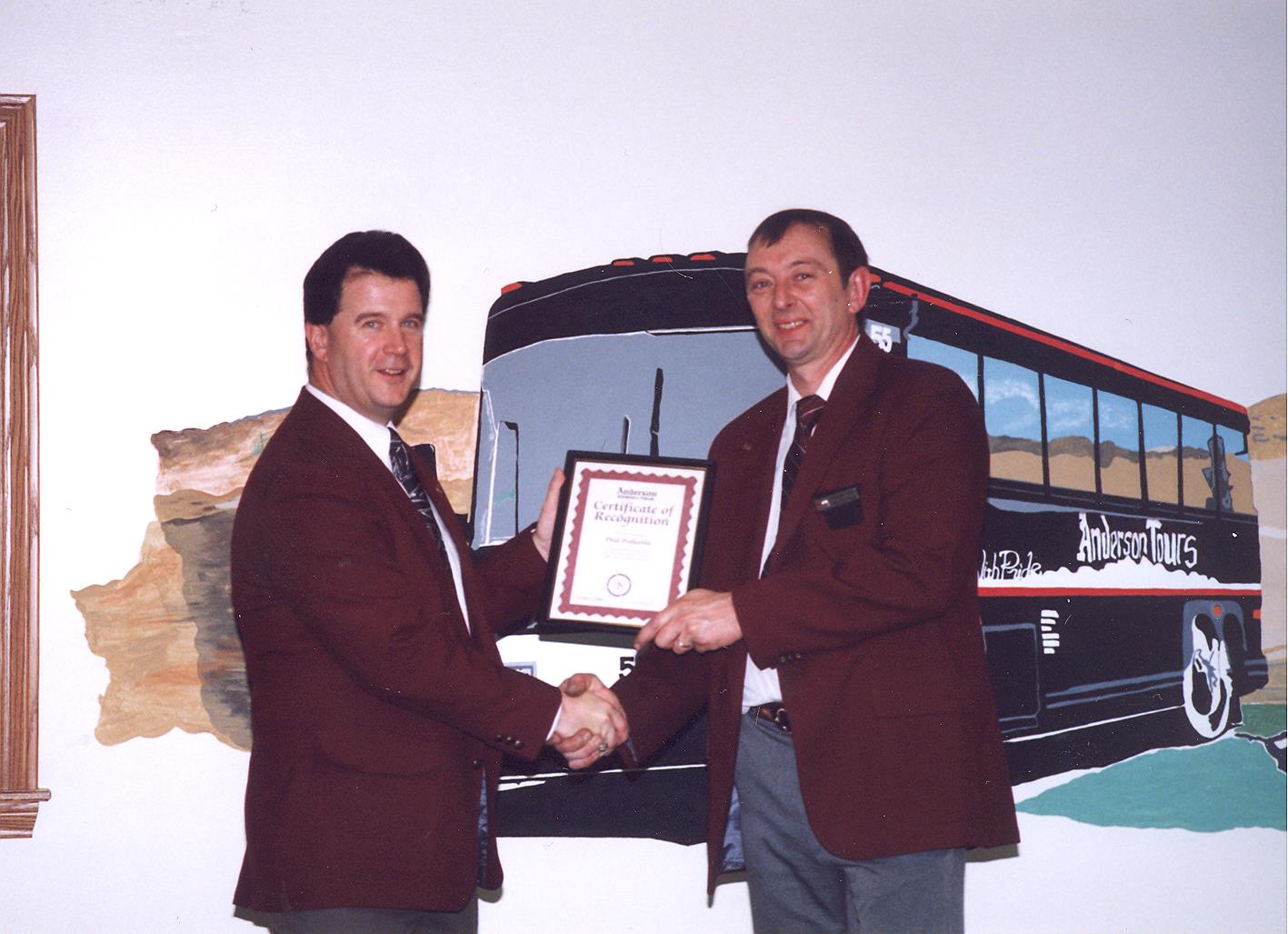 He vividly recalls his very first trip driving bus: taking Millie Macko and friends to Coitsville, Ohio, to play bingo. Phil rattles off the names of the women he picked up on that trip and the locations where he picked them up. Off to a shaky start because he was a new driver in a school bus rather than a motorcoach with a small but formidable charter customer, he wasn't so sure about his decision at first.

"On the way over I thought 'what'd I get myself into,' " he said, noting that the women had a few complaints, including about where to stop. "Millie threatened to call Mrs. O.D. because 'she knows better than to send me a school bus.' "

But he won her over. "On the way home she says 'I'm going to call Mrs. O.D. and tell her that I want you as my driver all the time.'"

Phil speaks fondly of the relationship with Millie, who upon learning he was also Slovak (in fact his dad's family and her family were neighbors back in the old country) she always brought him a plate of homemade food and made him eat it before they left. "Millie was a good cook."

For 20 years, Polkabla drove a motorcoach for Anderson. In 1995 he "came off the road" because his kids were young and he wanted to be able to spend more time with them.

Polkabla says he'll still drive for Anderson part time and help out with CDL testing as needed. While he says he wouldn't be bored in retirement between hunting and projects, "I just can't walk away totally."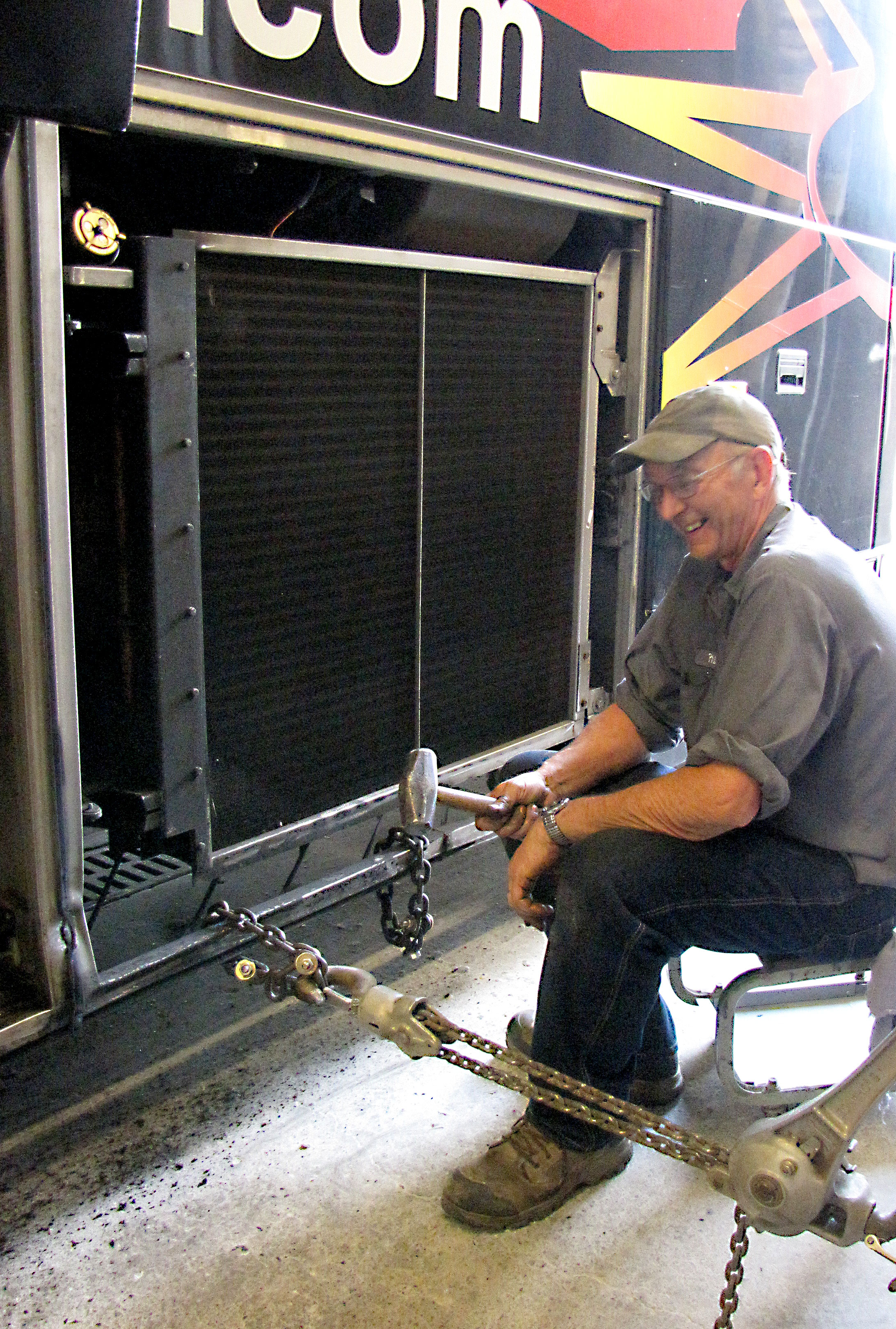 Phil said the hardest part of giving up driving for a full-time job in the shop was missing the people he'd met over the years. From the passengers to other drivers and bus owners, there's a special camaraderie that develops between people. "We didn't have cell phones, but we knew where everybody was. If we were within 10 miles of each other, we got together to eat."

"People and places you've seen and been, they've all got memories. When you haul the same people so many times you learn about their lives," he said. People have brought him souvenirs like belt buckles and interesting rocks from all over the country. Phil speaks of meeting a "voicer" who tuned pipe organs for a living, building relationships with real estate developers that turned into weekend family tours and razzing members of a ski club that over time went from drinking trash cans full of beer on the bus to mostly juice.

He fondly recalls meeting a clock repairman who talked him through fixing the grandfather clock he'd built. "By George, it's still working today," Phil said.

Fifteen years after graduating high school, he found himself driving a tour to Gettysburg with his former history teacher on board. According to Phil, he barely passed the class but after sharing all kinds of facts on the trip with the passengers, the teacher was impressed. "He said, 'You must've took in a lot more sleeping in class than I gave you credit for,' " Polkabla said with a laugh.

One of the fun things about driving a coach is that you really "don't know what tomorrow's going to bring." As head Mr. Fixit in the Anderson shop, one day Polkabla might be installing a new bus wash, another he might be building cabinets. "You think you may have a plan, but whatever needs to be done right now, you've got to go with the flow."

In 1991, Phil happened upon his dream car for sale while driving a group through Loudonville, Ohio. In 2019, you'd do a quick internet search and likely find out details. He ended up calling the police department there and told them about the white, 1971 Torino he was interested in buying. They knew the 91-year-old woman selling the car and got him her contact info. He took his two small kids and cash one day to check it out. He still has the car, which only has 21,000 miles on it.

A lot has changed in the industry since Phil began his career. There's a much more rigorous onboarding process for drivers. The buses are bigger – Anderson's current model motorcoaches are 10 feet longer than they were in the 70s – and tricked out with technology. The vehicles are quite different from when Polkabla started; he noted that the old stick shift coaches could be push started by a handful of people if the battery died and they didn't have power steering back in the 1970s.

"I've seen over 200 motorcoaches since I started actually driving here. I couldn't tell you how many school buses," Polkabla said.

All of Anderson's coaches are equipped with Wi-Fi and outlets at every seat, but back in the 1990s, Phil was flipping over the picture tube in televisions and mounting them upside down in the buses and wired them into the PA system so groups can watch movies through the VHS player.

Another huge change is that everything used to operate on a cash basis and now everything's handled via credit cards.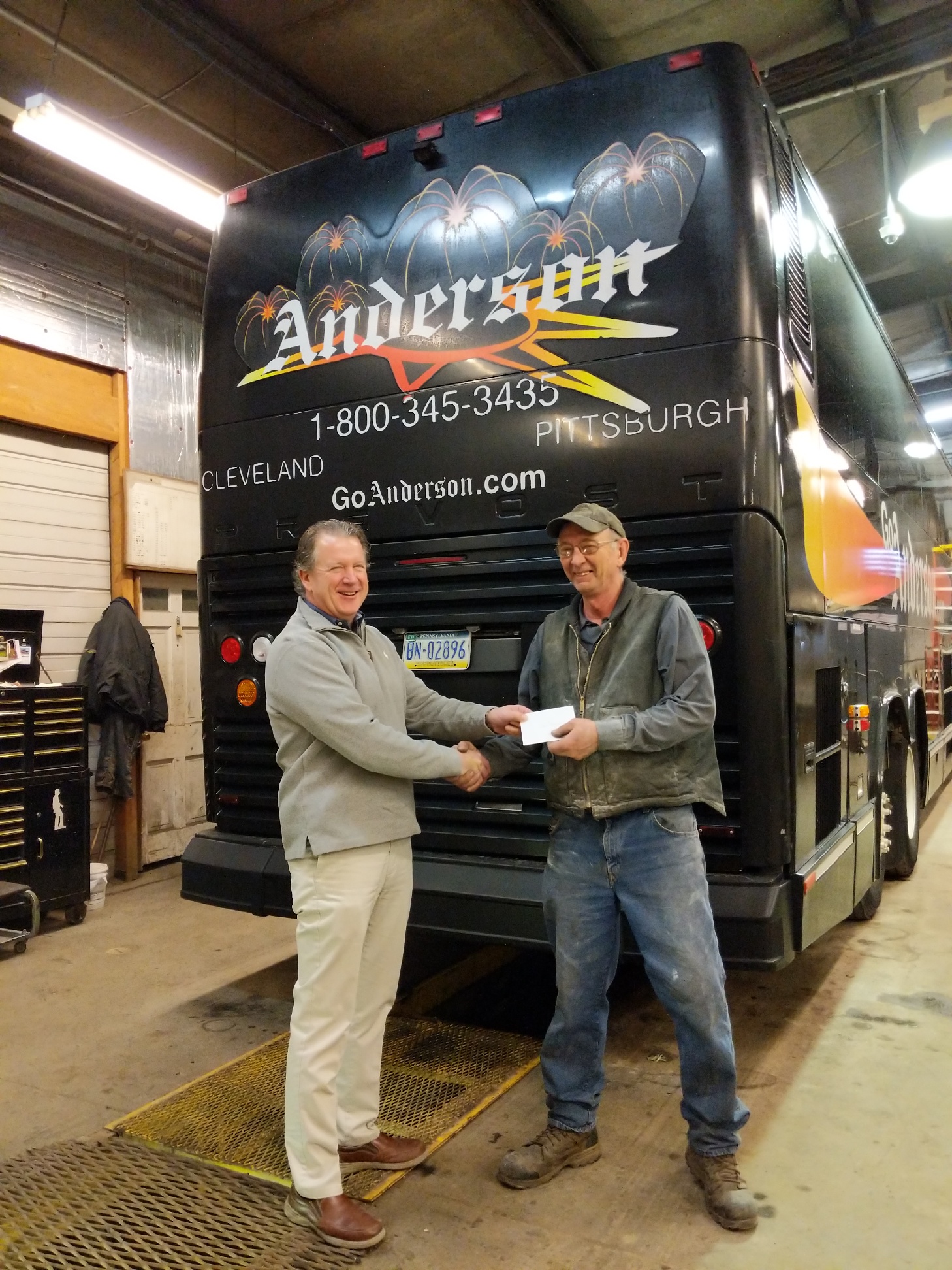 "Dot would send you out with the exact amount of cash you'd need and tell you to 'collect the money before you go' " from the customer, he said. "Dot knew how much that trip was going to cost. Tolls, lodging, meals and possibly parking. She might give you $30 or $40 more just in case. She had it down to a science. There was never one time that I was short cash for a trip."
Phil said drivers returned with their receipts and if everything didn't match up or you "shorted her a penny" you'd get a tiny note from Dot with what was wrong.
And sometimes, he said, routing would take you so far off the beaten path "you wondered how did O.D. ever find this place? He talked to people."
Talking to other drivers over the CB radio let them keep track of each other out on the road. These communique served as an early sort of review for folks, too. After a clerk at a truck stop outside Scranton, PA, gave Phil "the dickens" for showing up in the middle of the night with a bus full of people, he says he would tell anyone in the area saying they needed to stop for fuel to skip that location.
Polkabla still drove up until his retirement for a few select customers, mainly Greenville High School music programs, thanks to long-time relationships. He said the technology has changed the way people interact on the bus ride, too. "They used to look out the windows to see the great United States, not at screens."
In addition to friends for life, the job also gave Polkabla a chance to visit many places he might not have been able to go.
"I drove to Alaska three times," Phil said, noting that after O.D. passed away in 1990, Polkabla drove the first of the trips through Canada, which is considered Anderson's signature tour.
He said he enjoys the "rusticness" of Alaska and some of his other favorite places he's traveled with Anderson are Branson, MO, the Midwest, the Northwest and that he likes New York City and Boston. He lauded "the best tour guide you could ever have" in Richard Goldfine, who gives historical tours of Boston.
"I had a lot of good times and a lot of fun with a lot of drivers," Polkabla said, noting most of the people he knew back when have passed away. "I was the baby of the bunch really."
Enjoy your retirement, Phil. We'll miss you, but you've earned it. See you on the road.