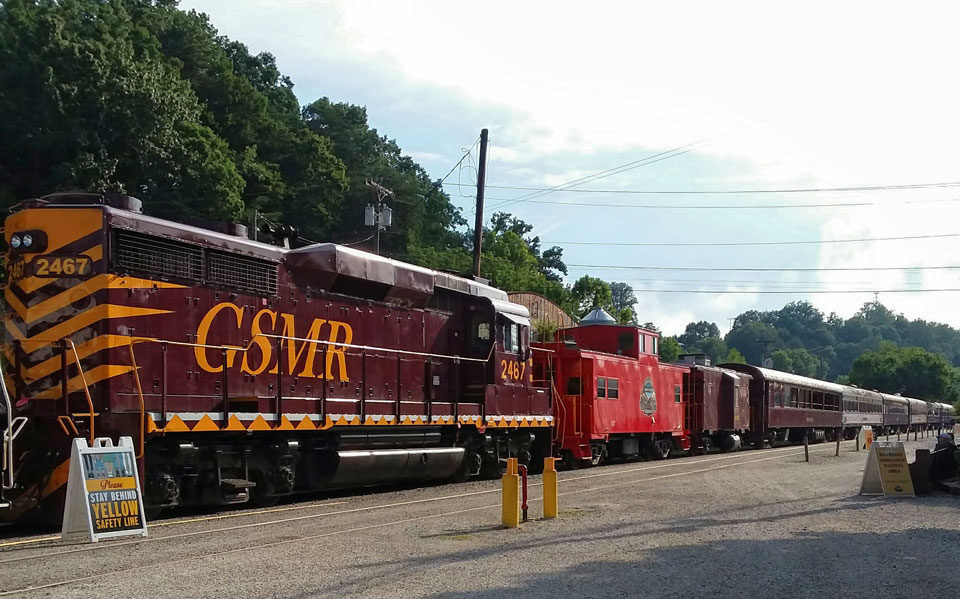 By Anderson Tour Director Judy

DAY 1:
Our trip began with a beautiful sunrise, blue skies with fluffy pink, white and lavender clouds.
After a great breakfast in Akron, OH, we passed the Football Hall of Fame and saw end zone uprights. These were painted a bright yellow and used by the power company as powerline supports instead of the usual power poles at the Hall of Fame.
During our travel time, we introduced ourselves and learned many things about our new friends. We had a mother and daughter on their annual trip, a sisters trip, a 30th Anderson Coach and Travel trip and a 74th birthday celebration trip!
Heading due south, we crossed over the muddy Ohio River running over its banks and into the state of West Virginia. From there, we entered Bristol, TN/VA and on to our destination: Asheville, NC. What a change from rainy PA and OH - hazy blue skies and highs near 90 degrees.
After dinner, next came rest in super comfortable hotel room!
DAY2:
After breakfast, we met our local guide, Sharon, joined us for a driving tour of Asheville's historic district, which has more than 600 historic homes. Then we walked through the Grove Arcade which offers items from local and area craftsmen as well as from the mountain region.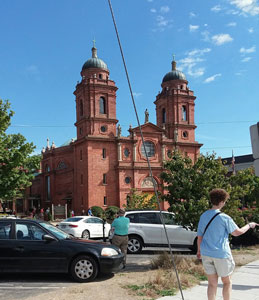 We then enjoyed a guided tour of the beautiful Basilica of St. Lawrence, a deacon and caretaker of the funds for the Holy Church in the third century who was martyred for the Church.
Next we stopped at the Mast General Store for some shopping where you can find items from the past up to the present…you never know what you may find here.
After a quick bite at Biltmore Village, we headed through the gates at the Biltmore Estate. I can't possibly tell you of the extravagance, beauty and opulence of the Biltmore Estate which is decorated with many original pieces. On this tour, we learned about the Vanderbilt family, their guests, and their staff, in addition to the surrounding architecture, design, and artwork. The best I can do is tell you we took a fantastic self-guided audio tour of the estate and gardens.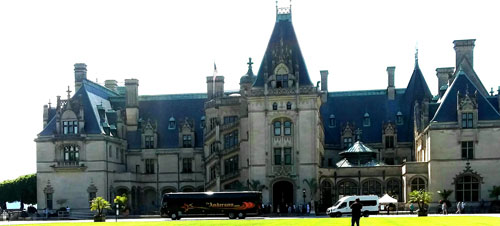 The Biltmore House is America's largest private residence. This beautiful mansion was a home for the Vanderbilt family, the largest single family dwelling in the country, and the Biltmore House covers more than 125,000 square feet. This regal French chateau, tucked in the Blue Ridge Mountains of Asheville, North Carolina, is a national historic landmark. Designed by renowned architect, Richard Morris Hunt, Biltmore house has 250 rooms, 65 fireplaces, 43 bathrooms, and 3 kitchens, in 4 acres of interior floor space, and is filled with the immense collection of art and furnishings of its original owner, George Vanderbilt. The beauty of this grand home extends out-of-doors to its gardens and managed woodland designed by America's father of landscape architecture, Frederick Law Olmstead. In all, Biltmore Estate encompasses 8,000 acres of land.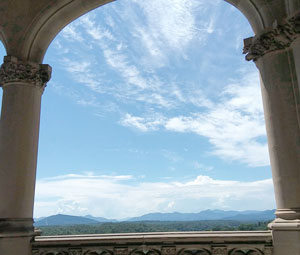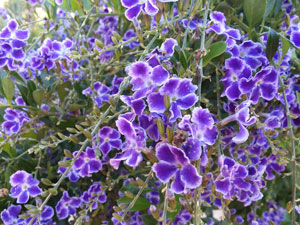 Our next stop the Biltmore Winery where we enjoyed ourselves at The Village Social, a large restaurant and lounge where we ate a scrumptious dinner and listened to live entertainment. Next we returned to our hotel rooms for some much needed rest to prepare us for another fun day.
DAY 3: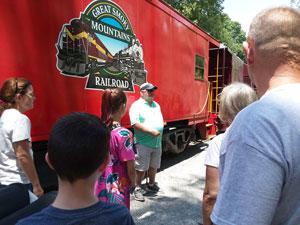 After breakfast and an early start, we were off to the Great Smoky Mountain Railroad. Our scenic rail excursion took us you from the historic depot in Bryson City, through the beautiful countryside of western North Carolina. With 53 miles of track, two tunnels and 25 bridges, the Great Smoky Mountains Railroad takes you on a journey through the beautiful western corner of North Carolina. We rode into river gorges and across valleys carved out of majestic mountains and wildlife was abundant.
Everyone in our first class dining car decided that "Chris" our train conductor, entertainer, narrator and all around great GSMR representative gave us the best experience that can be enjoyed on the Great Smoky Mountain Railroad!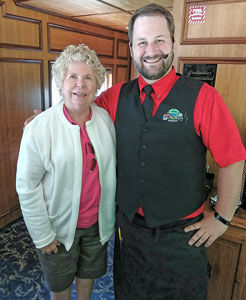 For dinner this evening we went to the Stone Ridge Tavern for another great meal and dining experience.
DAY 4:
With continuing sunshine and blue skies, we sadly left North Carolina behind and began our journey home, experiencing the beauty of America's countryside along the way. For lunch we stopped at Tamarack in West Virginia, which features WV arts & crafts, craft demonstrations, an art gallery, and a food court with fantastic meal options from sandwiches and wraps to complete hot meals by their master chefs. Soon after, we were home to say our goodbyes and share our good memories.