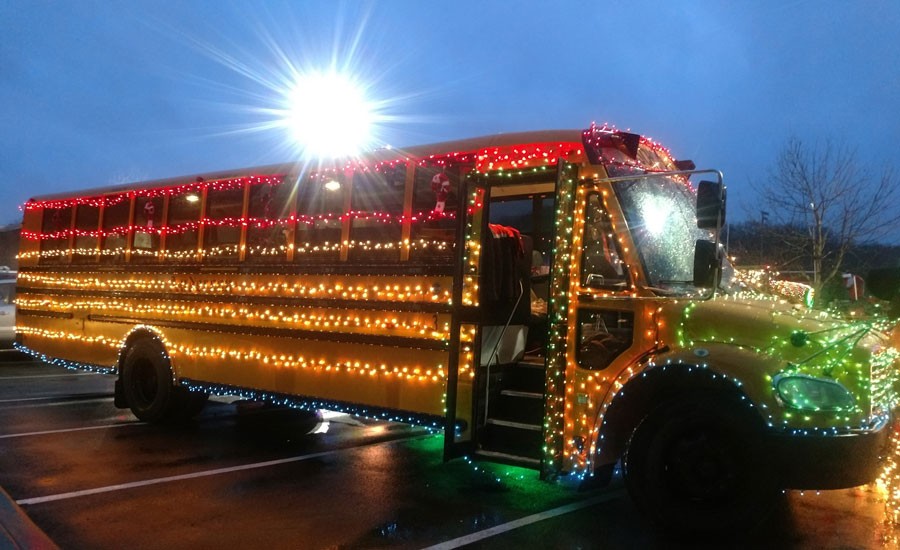 Currently boasting the title of the "Largest Lighted Tractor Parade in the USA," Linesville, PA's 2018 edition earlier this month did not disappoint! We were proud to participate thanks to the hard work and dedication of a number of our Conneaut Area school bus division employees. It's just one more reason our internal nickname of C1 for this group is fitting.
Driver Anna Fuller Hunter had this to say about the event: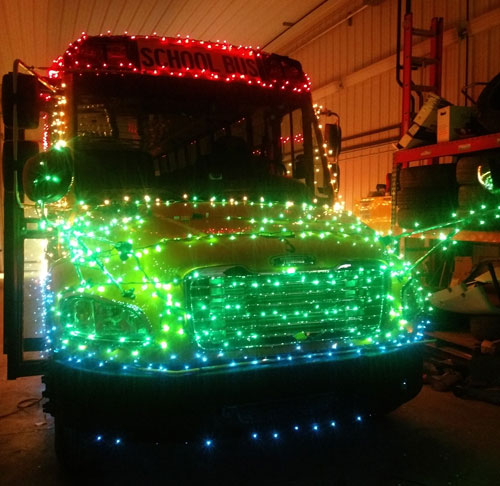 At the beginning of the school year a small group wanted to do something to participate in our local communities and also promote Anderson Coach & Travel. They hoped to spread the word and maybe even recruit some new drivers! We decided to enter in 3 parades. The Conneaut Lake PumpkinFest Parade, the Meadville Halloween Parade and the Linesville Lighted Tractor Parade. Staff happily volunteered and donated candy to throw to the crowds. A special thanks to Rick Bridge as he donated a very large sum of candy to the first 2 parades and almost all the candy for the Lighted Tractor Parade.
We were also unique enough to have Merry-Smith-Kuo donate at least 5 cases of fortune cookies to throw out during the parades. We enjoyed all the parades, but the tractor parade was definitely the show stopper of the year. Robert Hanna went out on at least 3 runs to home depot and bought all the lights for the float with his own money! The last count and empty boxes on the floor showed a whopping 10,700 lights used! It was absolutely an amazing sight to behold.
Everything took weeks of planning but there was no way to just take a bus out of commission for a long period of time, so the actual time used to make this happen was less than 24 hours, believe it or not. The boys stayed up all night Friday and finally left around 4am Saturday morning only to come right back around 7:30am! A sea of zip ties, suction cups and sticky light holders were used to hold everything up and tight. Even a large tootsie roll became a very important part of the whole process!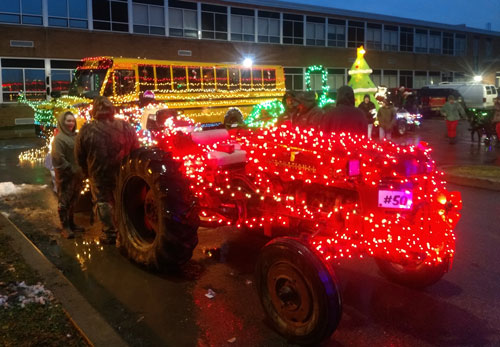 As we raced to get everything packed up and the tractors ready to go we had a small caravan as we headed over to Linesville where Bob's dad got us access to use the Excalibur facilities to now decorate the trailer, load more tractors on with a fork lift, even used the overhead crane to position the large generator that ran all the lights. Nine tractors now became the bus/sleigh's reindeer!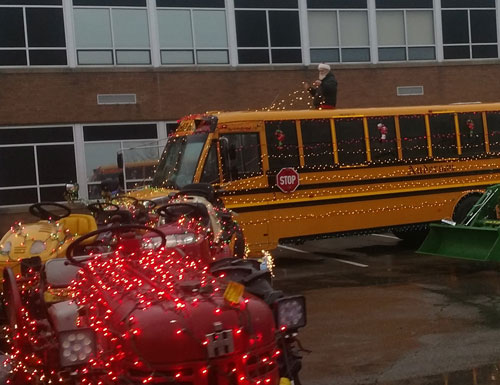 It was magical to watch all this take shape. A few thousand lights, some snowy skirting and a big lighted red bow in front and we had ourselves the best looking float around! We made it to Conneaut Area Senior High around 3 p.m. and registered. Then, we were able to add all the final touches and decorations to our float. Of course, what would a sleigh be without our very own Rick Huff as Santa! Complete with 50ft of lighted reigns and a ladder he stood in the emergency hatch and had the best view of the whole parade! While we did not win a trophy for our 100-foot lighted masterpiece, we did have the best time ever watching people gasp and children jump and point when we rolled by!
The best part was when the whole float clicked for people! We would hear "Oh, MY, Gosh! It's Santa! Oh, I get it! That's his sleigh and reindeer!" We want to thank everyone who was involved in all the parades! No part was too small. We thank you for candy, volunteering your time, for walking or riding along and all the hard work for all 3 parades: Robert (Bob) Hanna, James Daily, Glen Shaw, Richard Huff, Rick Bridge, Anna Hunter, Amy Fuller, Jennifer Palko, Emily Moyer, Barbara Eshbaugh, Dave Alexander, Merry Kuo, Bobbie Wrataric, Betty Rivers, Kyle Anderson, and many more.