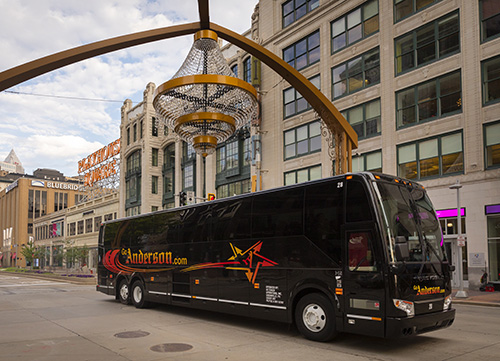 Searching for a reliable Cleveland charter bus company to get your crew to the next Ohio State game? Arranging transportation for your company's big convention? Anderson Coach & Travel has the charter bus rental for you, no matter the size of your group.

Whether you're looking for a full-size coach bus to transport your youth group to Cedar Point, or a luxurious van limo for a show in Playhouse Square, Clevelanders can count on Anderson to provide superior vehicles operated by skilled and dependable drivers.
Our fleet carries the highest possible safety ratings from the U.S. Department of Transportation and the U.S. Military, making Anderson one of the Cleveland bus tour companies of choice for universities, schools and businesses across the area.
When you choose a charter bus service, you put your trust in a company to deliver on safety, comfort, and more — and Anderson does just that.